News-Gazette Management Team
Jim, Dan and Pete
---

Customer Service Representatives
Our staff is knowledgeable in all aspects of our capabilities.
They are eager to help with your next project
Call us for your next printing project...419-227-2527 or 1-800-274-4198
Email: [email protected] FAX 419-222-2303
or stop in for professional service...324 W. Market St. Lima, Ohio 45801
Monday - Friday 8:00 am - 5:00 pm
---

Prep and Bindery
Experienced and professional. We make sure your job is started right and ends right.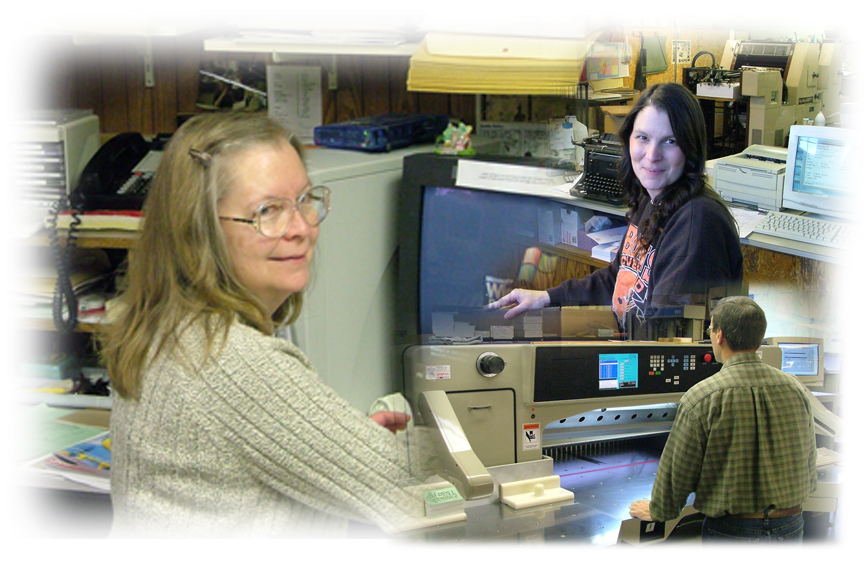 ---

Press Room
We make sure the press work is
done to perfection. You won't be disappointed.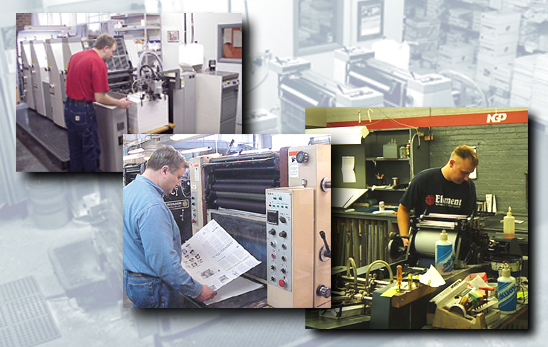 ---
We offer our customers complete printing services!
PrePress: We use both popular platforms: 3 PC machines (running Windows 11). Our main output device is a Fuji Dart
Platemaker, capable of 24" wide plates, with a maximum resolution of 3000 dpi. We can proof in
black and white or color with our Konica Digital Copiers.
---

Software: PC: Adobe Creative Suite 3 (InDesign CS3, Illustrator CS3, Photoshop CS3, Acrobat 8)
Adobe Acrobat 6 with Pit Stop Professional Plug-in, Adobe Pagemaker 7.0, Microsoft Publisher, Microsoft Word, Microsoft Excel, Microsoft PowerPoint
---

Presses: Hamada B452 4 Color with Console,
RYOBI 3302HA 2 color,
11 x 17 Chief Duplicator 2 color,
Our smallest sheet size is 4" x 6" and our largest is 14 x 20
We have 1- Heidelberg KSBA 18 x 23 die-cutters and 1 - 10 x 15 Kluge
We can print 1 color "QuickPrint" to full color printing !
---

Bindery: Two 37" wide cutters can handle stock 35" x 45".
We have a full complement of folders...... (up to 26" x 40" continuous feed),
2 - drills ( 3 spindle), a 6 pocket collator/saddle stitcher/trimmer,
a 9 pocket flat sheet collator/folder/stitcher/trimmer, 2 flat sheet collators
(14 pocket and 22 pocket) that can handle sheets up to 11" x 17".
We can crash imprint sheets or snap set forms with text or numbering. We have rotary
perf and scoring machines and we can number/perf/score/die-cut sheets
up to 18" x 23" on a variety of stocks.
We can GBC punch at high speed with our Sickenger Punch.
---